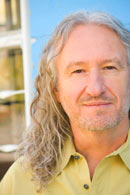 Hi, I'm Dan Howard, "the resting guy" and my intention is to make a radical shift in your perception of rest.
For a long time I wondered about a way to effect transformation that would be so simple anyone could get it right away. A way to help people be present, to feel more alive.
When I woke up one night noticing that several areas of my body felt uncomfortable and I had the thought to "rest for" those areas I had no idea at the time how profound this discovery would be, but when I woke up in the morning with no pain, I knew I was on to something good.
Now, years later, after testing and developing Intentional Resting as a reliable tool that can be used with most anything and sharing it with a lot of people, I'm still amazed at how profoundly it can effect change – in just seconds.
Over the years, I've learned that the level I'm rested to is the level I can be present with anyone or anything (ever tried to connect with someone or pay attention to something when you're exhausted?) and that the more rested I am, the more fun I have and the more available I am to experience and enjoy life.
So now I love to teach people how they can consciously rest anywhere, anytime, day or night – and I've discovered that the state of being that rests is also the state of inner stillness, presence and love.
For me, they're all the same.
And now you know…the REST of the story,
Dan
P.S. I'm available for:
• Rest Coaching
• Presenting on teleseminars
• Workshops
• Group Facilitation
• Retreats
P.P.S. Please do let me know what you get from using this tool. I love hearing from you!
801-232-5373